FREQUENTLY ASKED QUESTIONS
We've put together a list of the most commonly asked questions to help you get your answers faster. Simply choose a category to quickly find the help you need. If you still have questions or need further information feel free to send us a line!
How did Wixter Seafood begin?
Wixter began as a neighborhood market in Chicago and built our business by being honest, transparent, and uncompromising. Now we are tackling an even bigger challenge: how to bring that same high-quality seafood to home chefs across America while also helping save the planet. It may seem ambitious, but we believe our unique process and commitment to sustainable, naturally preserved, and 100% traceable seafood will help positively impact global climate change and lead to healthier oceans, seas, and humans.
We founded Wixter on the promise that you will not find a higher quality seafood in the world. Because we control every aspect of our supply chain—from water to plate—we can ensure that every Wixter offering includes only the most consistent prime cuts of fish and shellfish. The only thing we care about more than our seafood are the waters that it comes from. We will never waver in our commitment to combating global climate change through not only responsible fishing and aquaculture but also in our supply chain by not flying our fish around the world.
How did Wixter get its name?
Our founder originally started Wixter as a neighborhood market in Chicago – his name is Matt Mixter, the neighborhood was Wicker Park.
Where can I buy Wixter Seafood?
We're so glad you asked! Check out our product locator to find in-store or you can find many of our products available to buy-online through our eComm/Grocery Delivery retailers
Do you have any offers or coupons?
Signup for our newsletter for great tips, tricks, and valuable offers that are available through our retail partners (online and in-store). Currently, we have a program available in select regions through the Fetch Rewards app.
I'm a store / restaurant owner/buyer and interested in buying Wixter wholesale – How do i get Started?
- We work with many great distributors and wholesalers from which you can purchase Wixter products, as well as direct, with certain Minimum Order Quantity requirements. Please email us here and we'll be glad to help identify the best option to meet your needs!
What makes Wixter Seafood different?
The Wixter Promise is more than just words – it's truly what we strive to live up to day-in and day-out. We offer:
Unmatched Quality: by partnering only with producers that adhere to the strictest of sustainability standards and share our passion for perfect seafood.
Consistent Prime Cuts: never broken pieces, small portions, always consistent center cuts and prime portions.
Naturally Preserved: Wixter uses the time-honored preservation method of flash-freezing to lock in peak nutritional value and flavor – no preservatives, no additives, and no antibiotics-EVER.
100% Traceable: It begins with the highest quality seafood producers on the planet and ends with the most consistent highest quality seafood on the plant - you can find where your product was harvested, from which producer.
Uniquely Sustainable: Sustainability is more than a buzz word at Wixter. We strive to utilize every part of the fish for nutritional supplements that extend far beyond your plate and abide by strict catch limits and source our seafood during peak season from its natural waters.
HOW DO I THAW AND COOK MY FISH?
We sell frozen fish, which in most cases is fresher than "fresh fish" you get at the seafood counter. We carefully select and partner with producers who utilize advanced technology and production methods to preserve seafood at the peak of freshness. By harvesting each species from their natural waters during peak season, as well as freezing it hours after harvest, we preserve the nutritional benefits, taste, and texture.

Learn more on our Why Frozen page.
We sell no-hassle, ready to cook prime-cut portions of fish which is more convenient and creates less waste.
Where can I find recipe inspiration?
We try to help our fans keep their seafood sustainable and their meals mouthwatering – we have many chef-curated recipes available here and work with partners to regularly share new content – follow us on social media for more: @Wixterseafood (Instagram, Facebook, Pinterest)
Why should I consume seafood?
Each species offers its own unique benefits, but seafood is an excellent source of Omega-3 fatty acids, which are great for optimal brain, heart, and overall body function. Our Norwegian Salmon, for example, contains >4,000mg of Omega 3s per serving!
Additionally, seafood packs relatively few calories with a very high amount of protein per serving – a 4oz serving of our Norwegian Cod is just 140 calories, but has 33 grams of Protein and 0 grams of fat.
We have a whole page that covers this topic (here), but in-short: Frozen is the New Fresh – by flash-freezing the product within hours of harvest, we lock in peak nutritional value, taste, and texture.
Additionally, by shipping frozen, our product doesn't have to be flown in on high-emissions airplanes to make it to your kitchen, making Frozen Seafood more sustainable, climate-friendly, and economical relative to almost all fresh product on the market today – especially if you don't live right near the ocean.

Frozen food also plays a vital role in reducing food waste, globally. It's estimated that between 30-40% of all food is wasted in the US food supply – by buying frozen, which has a longer shelf-life, you can help reduce the amount of product that goes unused and reduce the resources, such as fuel, feed, water, labor hours, and more that would go-wasted in the process of bringing that otherwise unused finished product to market.
WHAT IS THE SHELF LIFE OF YOUR PRODUCT?
Please check the "best by date" on the packaging and we recommend consuming within 3-4 months after purchase, to ensure the best quality after bringing it home from the store
Do you offer Sashimi/Sushi grade product?
YES! Check out our Salmon Sashimi Kit that is pre-sliced for a true sashimi experience and comes with Soy Sauce and Wasabi packets to complete the meal.
IS YOUR FISH READY TO EAT?
We offer thaw & eat products, including our Cooked Norwegian Shrimp and our exclusive Salmon Sashimi and our entire tinned line.
Our other frozen seafood products are not ready to eat and should be cooked before consuming.
WHERE CAN I FIND THE INGREDIENTS AND NUTRITION INFO?
You can find the ingredients and nutrition info for each product on their product pages as well as the back of our products' packaging
ARE ANY WIXTER-BRANDED ITEMS KOSHER?
Yes – the following items produced under Kosher-certified conditions:
• Norwegian Salmon
• Salmon Sashimi
• Norwegian Steelhead
Do you use antibiotics, hormones, or GMOs?
NEVER!
All of our farmed products are fed the highest quality, most natural feed that replicates what the fish species would consume in their natural habitat with no additives, ever!
WHAT ALLERGENS DOES YOUR PRODUCT CONTAIN?
All of our products are pure seafood and as such do contain fish or shellfish. Additionally, our Salmon Sashimi comes with Gluten Free Soy Sauce in a separate packet, that contains soy.
IS YOUR PRODUCT GLUTEN-FREE?
All Wixter frozen products are gluten-free – only our tinned Sardines in Sauce did contain gluten, however.
What makes your products Sustainable?
Our Salmon and Steelhead create ZERO Food Waste in their harvest and production. Our producer utilizes every part of the fish for human and pet nutritional supplements that extend far beyond your plate.
We work with all our producers and together we are striving to produce zero food wastes across all our products. Most of our producers' by-products (the parts not used for our Wixter Prime Cuts) go into other seafood products, like fish cakes and fish oils, as well as supplements, pet foods, fish feed, and more. We are striving to become zero-food waste company.
Where do you source your seafood?
We scour the globe to partner with the most trustworthy producers and give voice to the most exclusive group of sustainable farmers and fishermen making a difference. We only partner with producers that meet the most stringent requirements for sustainable and responsible seafood production and fishery management. You can find out more about each species on the product pages and the map below shows where each of our products come from.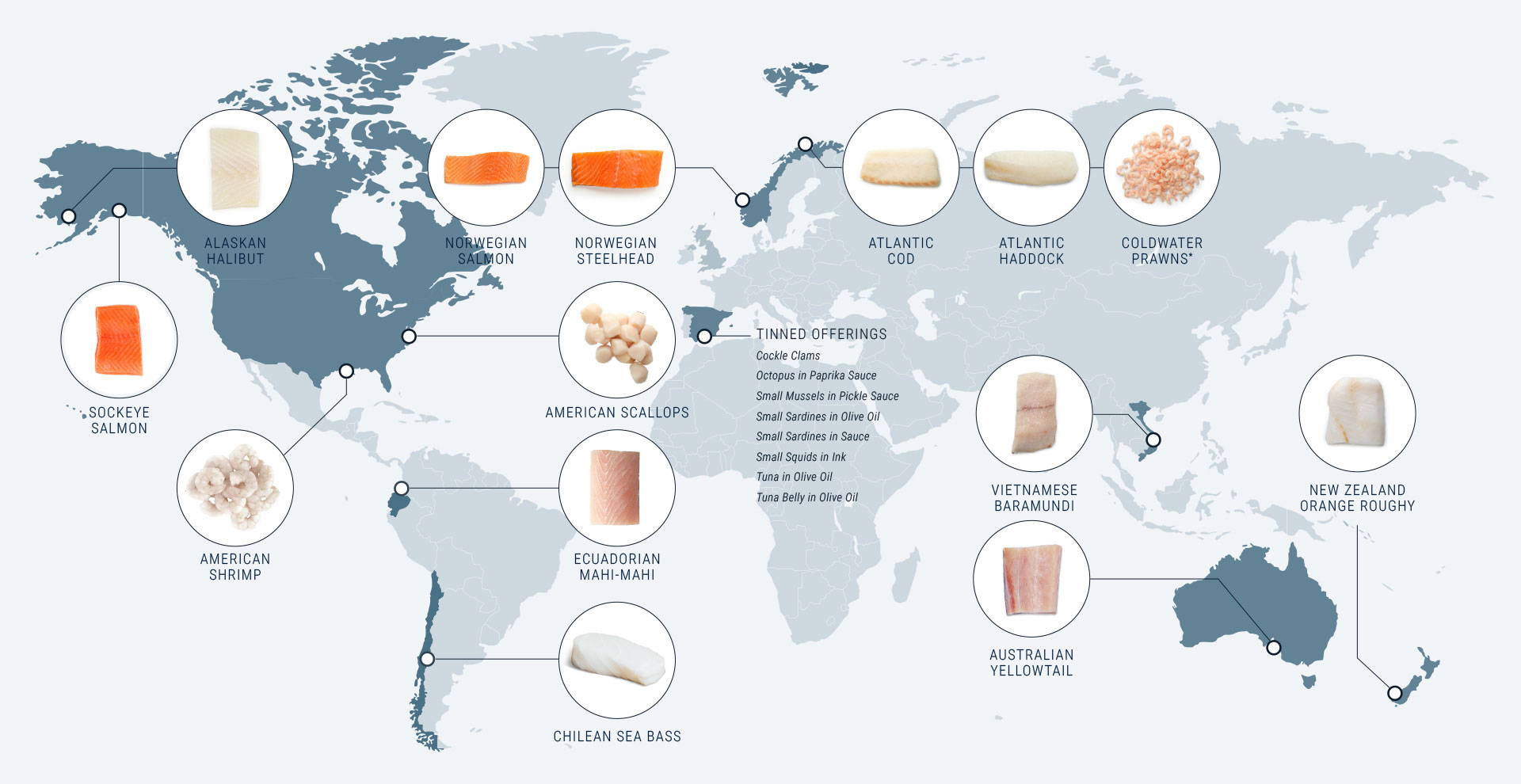 Which Wixter products are wild caught, which are ocean raised (farmed)?
Did you know that the Ocean makes up 70% of the world's surface area, but only 5% of the food consumed are produced in the ocean? We believe that both sustainably wild caught and responsibly farm-raised seafood play a role in providing the world with nutritious and delicious food that is good for the consumer and the environment.
Doing so in a sustainable manner is critical to feeding the population and maintaining the ocean's biodiversity and health. Regardless of whether the species we offer are wild caught or responsibly farm-raised, we work directly with an exclusive group of most sustainable producers on the planet to ensure that the product meet our quality, traceability, and sustainability requirements.
Farm Raised species: everyday we offer Norwegian Salmon, Norwegian Steelhead and Vietnamese Barramundi and on a limited time basis, Australian Yellowtail.
Wild Caught species: Alaskan Sockeye Salmon, Alaskan Halibut, American Shrimp, American Scallops, Canadian Walleye, Chilean Seabass, Ecuadorian Mahi-Mahi, New Zealand Orange Roughy, Norwegian Cod, and Norwegian Haddock
What's in the feed for your farm-raised products:
Our producer of Norwegian Salmon and Norwegian Steelhead has a close cooperation with world-leading feed provider Cargill, and the raw material have strict specifications regarding origin and nutritional content. No Antibiotics, no Preservatives, No Hormones – EVER
Our Barramundi is given a predominantly plant-based protein diet with a modest amount of sustainably sourced fishmeal and fish oil. This helps achieve a low fish-in-fish-out ratio below 1:1, meaning they produce more fish from the environment than they put in.
IS YOUR PACKAGING RECYCLABLE?
Our frozen bags are not currently recyclable, however our cartons and boxes are. We are always evaluating new options that meet our needs and further our mission towards becoming more sustainable across all aspects of our business.
WHAT CERTIFICATIONS DOES YOUR PRODUCT HAVE?
We scour the globe to carefully select and partner with producers who are globally certified, adhere to the strictest standards, and practice sustainable fishing methods to ensure the most ecologically responsible seafood.
Our producers are certified by third party sustainability partners, including the Marine Stewardship Council (MSC), Aquaculture Stewardship Council (ASC), GlobalG.A.P., and Fishery Improvement Projects (FIPs).
When will my fish get here?
We ship out orders every Monday-Wednesday.
Frozen seafood typically ships via UPS. We use a combination of dry ice and/or ice packs to keep it frozen until it reaches your doorstep.
Tinned fish is shipped via ground, and typically arrives in 2-5 business days.
When we pack up your delivery, we'll send you a confirmation email with a tracking number that lets you keep an eye on your delivery.
Where can I get my tracking number?
Your confirmation email has your tracking number.
If your product arrives spoiled or damaged we will refund or reship. Please use the contact page to contact customer service.
Shipping is free if you order $99+ worth of product, otherwise it's $19.99.
Currently we only ship in the United States, excluding the following states:
CA, OR, WA, ID, NV, AZ, NM, UT, MT, WY, CO, AK,HI
How can I update my order?
Once we start to process the order, it's difficult to make any changes. You can always email Info@wixterseafood.com.